Bringing doctors and CPD courses
together
This mobile app and website for SimplyCPD allows course providers to market and take bookings for their online and face-to-face medical training.
An online booking platform for the medical industry
Medical professionals are required to complete a set number of hours of continuing professional development (CPD) however finding courses and booking involves scouring numerous websites.
SimplyCPD is a mobile app and website that allows medical professionals to find and book training courses from numerous providers all in one place. At the same time SimplyCPD offers a great marketing and booking management tool.
Find relevant courses and book in seconds
The system allows medical professionals to search for courses by location, date, speciality and much more, quickly ruling out irrelevant courses and finding the right one for them.
Once users have found the perfect course, they can checkout using credit/debit card and save it securely for next time. We have also implemented ApplePay and Google wallet.
E-Tickets
All the tickets issued by the system are e-tickets. This means that the user can access them at any time from the app or website. The ticket contains all the information the user needs to know about the course including the location, date, time and any other information the provider has added. Tickets can be added to the users apple wallet or google wallet for easy access.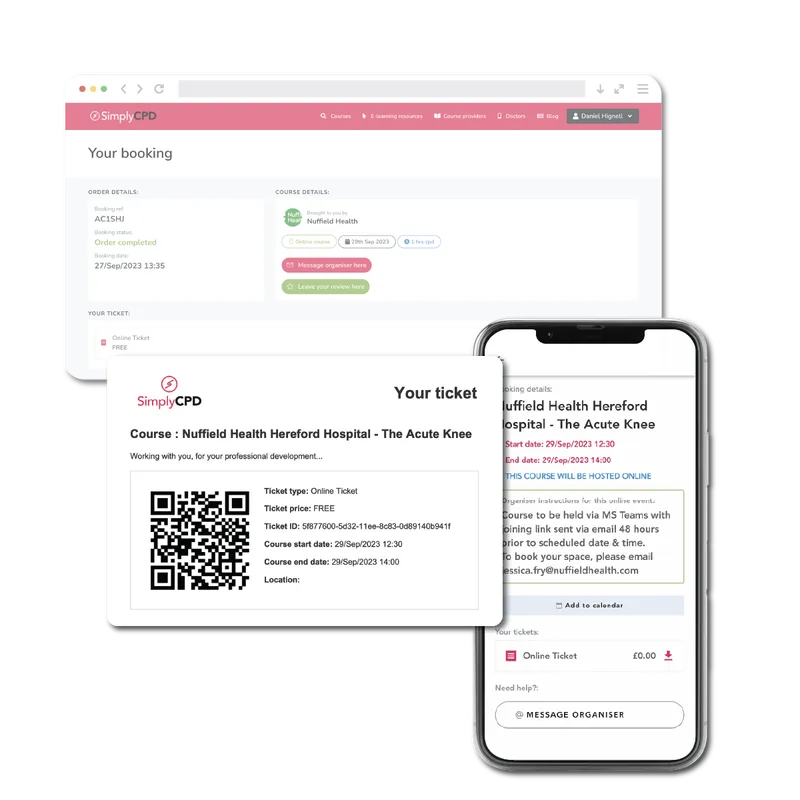 Course designer
The system allows course providers to create courses and add them to the system. The course designer allows the provider to add all the information about the course including the location, date, time, speciality, price and much more. The provider can also add a description and images to help promote the course.
Automating payments to course providers
The system allows course providers to add their bank details and receive payments directly from the system. Once validated, the system will automatically pay the provider 7 days after the course has taken place.
Read to get started on your own app development project?
Or
Contact us here